Web Design Warrington
You've probably found us because you've searched for Web Design Warrington. Rouge Digital have done a great deal of work with the Warrington community.
We have worked closely with Priestley College – Warrington. On their website and a number of internal systems. Priestley's website is powered by WordPress and houses a variety of custom functions, such as course catalogues and online application.
Web Design In Warrington
Barrow Hall College – Warrington contacted us to develop a brand new website and companion mobile app. ROUGE digital delivered a wordpress powered web platform and ionic powered cross platform app.
We have provided hosting & support for the charity Doctors Support Network.
We have also managed a Web Design project allowing students to build websites for local charities.
If you want Web Design in Warrington then there's only one place for you, Rouge Digital.
If you would like to start a new web design project in Warrington. Please contact us.
We're always happy to come and meet you at your Warrington base, and discuss your requirements over a cup of coffee.
Web Design Warrington – Case Study
Stockley Farm Park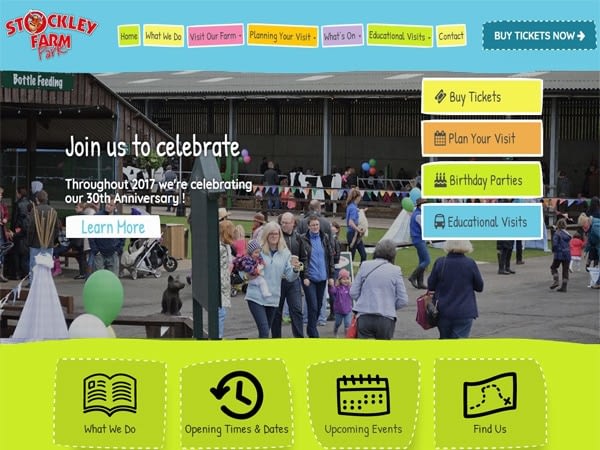 Stockey Farm near Warrington contacted us as they felt a new website was drastically needed. Sadly, They didn't have full control over their old site and the business was suffering as a result.
Our approach was to develop a new CMS driven website, which gives them full access to every single page. Therefore, allowing them to edit every piece of information whenever they need.
Our bespoke design fits in with the farm's ethos and branding, give a rough but playful look.
If you're an animal lover why not give them a visit. They're located just outside Warrington, near Arley Hall.
Visit Stockley Farm Park Website
Web Design Warrington
We work all across Warrington, and the surrounding areas. If you're based in Birchwood, Appleton, Stockton Heath, Sankey, Penketh, Walton, Grappenhall, Woolston or anywhere else around Warrington then please contact us with your web design warrington project.