Web Design Northwich
Looking for Web Design Northwich ? Rouge Digital can provide you with a custom built web site or ecommerce solution. We will come to your premises and meet you to decide exactly what is right for you.
We offer web design in Northwich and beyod. Our office's in Northwich Business Centre, allow us to serve the whole of Mid Cheshire.
What's more as we're based locally, you can always rely on us for technical support where needed.
We've worked closely with numerous Northwich based Web Design clients recently. Our client list includes Solutions 24-7, Mark N Thomas and Robbie Laurence Guitar Tuition recently.
Web Design Northwich Case Study
Kettleborough & Sons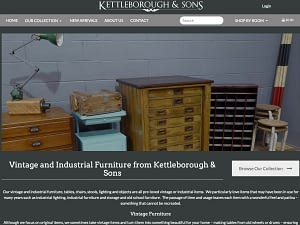 Northwich Based Kettleborough and Sons contacted us to help them launch their new online furniture business. We provided an ecommerce solution based on WordPress & WooCommerce, with SagePay integration.
We also designed every pixel, giving a highly stylised and minimalist website which showcases the items on sale.
If you're looking for a website, e-commerce site or app in the Northwich area then stop wasting time and Call Us on 0845 52 72 308 or drop us an email.
We are a friendly local company, who operate a no pressure approach to your web design project. Initially, we'll just have a chat on the phone or meet for a coffee, to discuss your requirements.
At ROUGE digital we realise that there is a lot of choice out there for getting your website built and it can often be over facing. We aim to make the process as simple and painless as possible, we don't talk in confusing acronyms or silly start up speak. We sit down with you and have a good old fashioned chinwag. We'll be totally honest with you, even if that means we don't get the work. And we'll never put any pressure on you to sign up for any service you don't want or need.